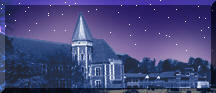 The planetarium at New Rochelle High School was completed in 1970 and Martin J. Steinbaum was appointed as its first director. Mr. Steinbaum retired in 1991. Under his direction, an annual holiday show, The Star of Bethlehem, was produced until 2002.
The present director of the planetarium is Mr. Bruce Zeller, who is also the astronomy teacher. There are several sections of astronomy which is offered as a junior and senior year science elective.
Each year many of New Rochelle's elementary, pre-K, and middle school students visit the planetarium to learn about astronomy. In addition, New Rochelle HS students studying earth science supplement the astronomy section of the NYS syllabus with demonstrations and presentations in the planetarium. The facility is also available to private schools and scouting organizations.
Mr. Zeller also offers a monthly planetarium show, open to the public. There is no charge and reservations are not required. In December, The Season of Light holiday show is offered on several dates prior to the vacation. This is the 46th year of this show, shown in some form or another, in the New Rochelle High School Planetarium.
In 1996, the district upgraded the original Spitz planetarium projector to an A5 opto-mechanical star projector, along with an ATM-3 automation system. In 2005, the district installed a Spitz Scidome, a 360 degree full dome video projector, along with ATM-4 automation with a 5.1 surround sound audio system. More recently, the interior of the planetarium was refurbished, increasing the seating capacity to 84. Our favorite 2008 upgrade was the installation of red, blue and green LED lighting, to create all sorts of effects such as sunrises and sunsets!